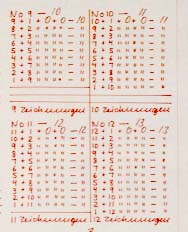 [R]andom sampling and aleatory choice from an infinity of possible objects (Ruscha's Twenty-Six Gas Stations, Warhol's Thirteen Most Wanted Men) would soon become essential strategies of the aesthetic of Conceptual Art: one thinks of Alighiero Boetti's The Thousand Longest Rivers, of Robert Barry's One Billion Dots, of On Kawara's One Million Years.... Or again, there are works by Stanley Brouwn or Hanne Darboven where in each case an arbitrary, abstract principle of pure quantification replaces traditional principles of pictorial or sculptural organization and/or compositional relational order.
--Benjamin Buchloh, "Conceptual Art 1962-1969: From the Aesthetics of Administration to the Critique of Institutions," October 55 (Winter 1990): 121-22.
PHOTO: Hanne Darboven Evolution <86>, 1986 (detail).



For introductions to the major principles of Hanne Darboven's work, please click on the days of the week (e.g. M, T, W). For additional information, click on another date of the month.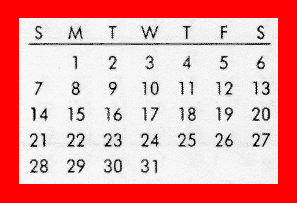 Project homepage | Dia's homepage