Objects/Images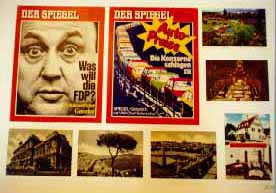 In the late seventies Darboven's work began to focus on broader notions of human existence in time through references to history and society. Age of Bismarck introduced photographic imagery in 1978. Subsequently, three-dimensional objects appeared. Objects and images now play an integral role in Darboven's work alongside her signature scripts and calculations. She employs assorted images ranging from large collections of vintage nineteenth century photographs to contemporary and historic postcards, bookplates, the covers of news magazines and journals, and her own photographs. Certain works repeat a single image, others interweave a colorful and diverse array. The articles -- cast-off toys, academic statuary, flea market finds, mannequins and decorative knickknacks -- are present only sparingly. Together with the objects, Darboven's engagement with photographs produces "a shifting balance, a synthesis of private record and social memory."*
*G. Garrels, "Hanne Darboven," Photography in Contemporary German Art: 1960 to the Present (Minneapolis: Walker Art Center, 1992): 43.
PHOTO: Detail of Kulturgeschichte 1880-1983 during installation at Dia Center for the Arts, March 1996.



For introductions to the major principles of Hanne Darboven's work, please click on the days of the week (e.g. M, T, W). For additional information, click on another date of the month.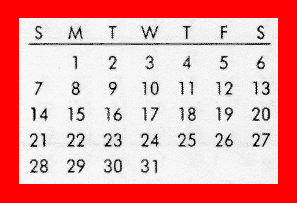 Project homepage | Dia's homepage