The Diary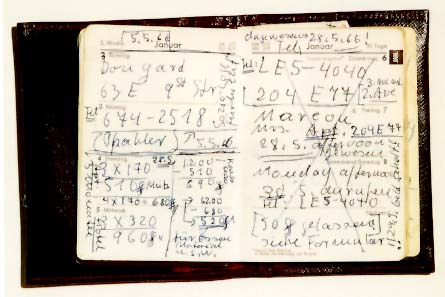 Darboven's Existenz 66-88 (Existence 66-88), 1989, draws on 22 years of Darboven's personal datebooks beginning in 1966 and concluding in 1988. 2,261 panels photographically reproduce the artist's leatherbound appointment book one two-page spread per photo. Hastily jotted reminders and telephone numbers and the generic pages of maps, conversion tables, and lists of legal holidays common to datebooks are interwoven with references to major political and historic events. A stuffed pet goat named Mickey, one of many Darboven has had over the years, accompanies the piece.
Existenz 66-88 expands the category of calendrical forms used in Darboven's work to include the datebook. An earlier piece, Hanne Darboven: Diary NYC, 1974, is likewise based on the diary or Tagebuch. Literary or poetic works are also mined for day-by-day or durational forms. The structure and content of "For J.P. Sartre," a segment of the work A Month, A Year, A Century 1968-1974, 1974, is partly configured by reference to Sartre's autobiography Les Mots (The Words) and commemorates his 70th birthday. The title and number of pages in Stundenbuch (Book of Hours), 1991, are taken from Rainer Marie Rilke's book of poems of the same name. Rilke's title came from the medieval Book of Hours or daily prayer book; Darboven's borrowing thus makes reference to both the poetic and quotidian.

PHOTO: Hanne Darboven, Existenz 66-88, 1989 (detail).




For introductions to the major principles of Hanne Darboven's work, please click on the days of the week (e.g. M, T, W). For additional information, click on another date of the month.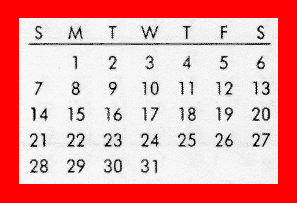 Project homepage | Dia's homepage