Hanne Darboven and On Kawara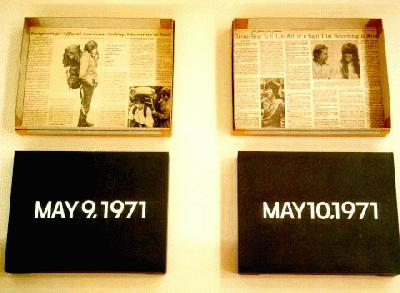 Darboven's concern with history, the daily passage of time and the larger cycles of years and centuries finds parallel in the work of On Kawara. In Kawara's Today Series, begun in New York on January 4, 1966,
[e]ach work must be completed on the day whose date it bears on its surface. Moreover, each date is recorded in the language and according to the grammatical conventions of the country in which the painting was executed. Conforming to one of eight sizes standardised early in the course of this project, each painting is painstakingly executed by hand. The white letters and numerals whose somewhat idiosyncratic typeface was gradually regularised by the artist during the first months of the series are painted on a monochrome ground. When not on view each painting is housed in a handmade cardboard box which also contains a clipping from a local newspaper from the city in which the artist was resident on that date. Mostly, the title for a work is derived from either a headline or a caption found on the accompanying newspaper clipping.*
Like Darboven's Kulturgeschichte, Kawara's date paintings record time and establish a dialectic between the "arbitrary and idiosyncratic,...the individual and the collective, the personal and the impersonal, set in relation to the particularities of an historical context [and] socio-cultural moment."*
* Lynne Cooke, "On Kawara: One Thousand Days One Million Years," exhibition brochure text (New York, Dia Center for the Arts 1993).




For introductions to the major principles of Hanne Darboven's work, please click on the days of the week (e.g. M, T, W). For additional information, click on another date of the month.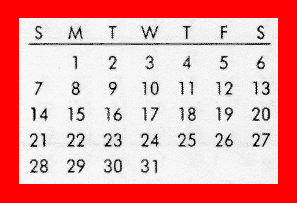 Project homepage | Dia's homepage